Free Inspirational Poems
Free inspirational poems are here for everyone to read. They are for taking a pause during the day and to give the spirit a gentle lift.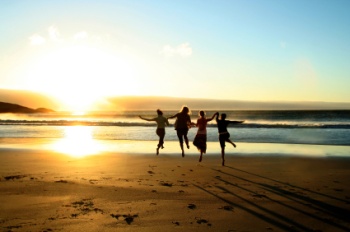 Four people running and skipping on the beach
Enjoy these uplifting poems;
The Power of One
One song can spark a moment,
One flower can wake the dream,
One tree can start a forest,
One bird can herald spring.

One smile begins a friendship,
One handclasp lifts a soul,
One star can guide a ship at sea,
One word can frame the goal.

One vote can change a nation,
One sunbeam lights a room,
One candle wipes out darkness,
One laugh will conquer gloom.

One step must start each journey,
One word must start each prayer,
One hope will raise our spirits,
One touch can show you care.

One voice can speak with wisdom,
One heart can know what's true,
One life can make a difference,
You see, IT'S UP TO YOU!

Author Unknown
The Earth and Man
A little sun, a little rain,
A soft wind blowing from the west--
And woods and fields are sweet again,
And warmth within the mountains's breast.

So simple is the earth we tread,
So quick with love and life her frame,
Ten thousand years have dawned and fled,
And still her magic is the same.

A little love, a little trust,
A soft impulse, a sudden dream,--
And life as dry as desert dust,
Is fresher than a mountain stream.

So simple is the heart of man,
So ready for new hope and joy;
Ten thousand years since it began,
Have left it younger than a boy.

Stopford Brooke
The Little Things That Happen
The little things that happen
Are tucked into your mind,
And come again to greet you
(Or most of them, you'll find).

Through many little doorways,
Of which you keep the keys,
They crowd into your thinking-
We call them memories.

But some of them are rovers
and wander off and yet
So lost, the keys grow rusty,
And that means-you forget.

But some stay ever near you;
You'll find they never rove-
The keys are always shining-
Those are the things we love.

Marjorie Wilson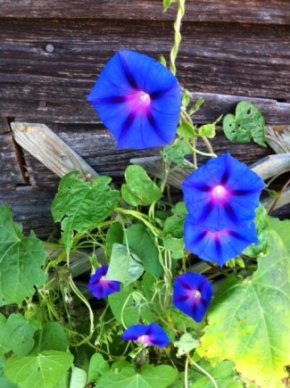 Petals
Life is a stream
On which we strew
Petal by petal the flower of our heart;
The end lost in dream,
They float past our view,
We only watch their glad, early start.
Freighted with hope,
Crimsoned with joy,
We scatter the leaves of our opening rose;
Their widening scope,
Their distant employ,
We never shall know. And the stream as it flows
Sweeps them away,
Each one is gone
Ever beyond into infinite ways.
We alone stay
While years hurry on,
The flower fared forth, though its fragrance still stays.

Amy Lowell


Please enjoy more poems that inspire;

Laughter
A collection of poems about hope, faith, courage and laughter.

Save Me Help Me
This is a poem that places trust in a higher power.

Lines Written In Early Spring
I heard a thousand blended notes,
While in a grove I sate reclined,...

The Acorn
In small green cup an acorn grew, On tall and stately oak:

I Wandered Lonely
I wandered lonely as a cloud,

Desiderada
The Desiderada is a timeless poem.

A Night-Piece
Look up to the beautiful night sky.See all of the beauty it holds.

Return To Inspirational Quotes and Poems

Go To The Homepage From Free Inspirational Poems