Sympathy Message

During bereavement, a kind thoughtful sympathy message, written to someone facing the pain of grief, may be well received.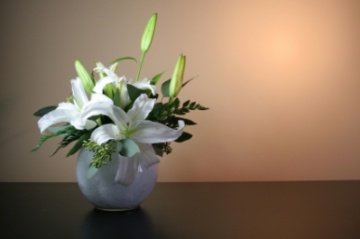 With all the emotions that are present at this time, it can be challenging for the message writer to write. It is best to keep in mind, that both parties are going through their own emotions.
Finding words to write, that convey your sympathy, is not always easy. Do write what is in your heart. Do not write 'empty words'--words that you do not feel.
Keep mindful that you are writing to someone who is grieving.
Why Write A Sympathy Message?
During a funeral or wake, when you would like to say a few words to the bereaved, the words may be difficult to come. You may also be under the covering of grief.
The person you would like to speak to, is possibly distracted by the events going on. They may not process your kind words, as they would under normal circumstances.
During this high, emotionaly charged time, it is easy for the bereaved to be overly sensitive to her surroundings. This includes words said to her.
As you write a bereavement message, you can take your time and put your thoughts down. The reader of your message may not read the cards and letters right away, but wait until she is ready.
The written word, carefully thought out, will be there to offer comfort, when ready to be received.
Getting Started
Decide if you would like your sympathy message to be in a card or a letter. Both have their benefits and their differences.
A Letter
A sympathy letter stands by itself, with no supporting card. It's message is usually longer than one contained in a card.
During my time of bereavement, I received several condolense letters. I appreciated the effort that someone took in approaching a difficult subject. It gave me comfort to read the letters.
A sympathy letter should be in the same form as other letters, with a heading, body and closing.
A Card
A sympathy message in a card, is different than in a letter.
While a letter stands by itself, a card usually has pre-printed text.
Sometimes, the text in the card will be so complete, you will find it hard to add your own message. But that is the purpose of a sympathy card. We pick them to say the words that we cannot.
If you do add your own words to a card, they will usually be shorter than what a letter would be.
Handwritten Words
Inspire
Those we love don't go away
They walk beside us every day
Unseen, unheard but always near
Still loved, still missed, still very Dear
Unknown
Kay-Pic.com

As you thoughtfully choose the words for your sympathy message, keep in mind of who will be reading them. Know that it will be more meaningful to read a note that is hand written, as opposed to one that is typewritten.
The handwritten word offers a certain comfort.
Electronic Bereavement Cards
At one time, it would have been unheard of to send a sympathy message through the internet.
The traditional way to receive and send cards and letters, has been done away with by some people. Their main way of communicating is through e-mail.
Electronic bereavement cards are more acceptable now. Although, the card may not be read until the bereaved feels ready to check their e-mail or cell phone.
Keep The Message Simple
However you decide to send your message, keep it simple. Now is not the time for complicated matters to be discussed. Great thoughts can be condensed to a few sentences.
Remember the happy times, and share a few of those in you message. You could mention how the deceased encouraged you, or the example that was set for you by his actions.
Keep the words as positive and uplifting as possible. Try to send a message that conveys hope and love, rather than saddness and despair.
Keep the wording simple, honest and uncluttered. Do not use words that detract from the message you want to send.
Some examples of sympathy words are;
I am here for you.

My thoughts are with you.

You are in my prayers.

May you find peace at this time.

I am sorry for your loss.

(name) will be greatly missed.

My prayers are with you.

With caring thoughts.
Sympathy
Remember that the purpose of a sympathy message is to be sympathetic. You are writing to someone in great emotional pain. Now would be the time to let them know that you are hurting also.
Be Sincere
The thing you would most like to avoid, is to come off as insincere in your message. It is often difficult to convey all that you would like to say. Write words that flow from your heart.
It is better to write than not.
You will always wished you had.
If you are not sure how your words will come across, say "I really hope my words are coming across well".
" I am not very good at writing, but I hope you understand that my thoughts are sincere".

Return To Bereavement Articles

Go To The Homepage From Sympathy Message