Bereavement Verses
It is better for bereavement verses to be uplifting and inspirational, to bring the reader to a higher place than where they were. At times, sadness can have a place in verse, but not so much that the overall message of healing is left out.
These verses do not have to be long to be effective. A short, simple verse can convey a message of hope, and peacefulness, and maybe even a glimpse of future well being.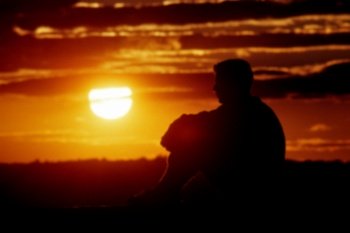 Beautiful Sunset

Please enjoy the following verses
They shall grow not old as we that are left grow old.
Age shall not weary them, nor the years condemn
At the going down of the sun and in the morning
We will remember them.
--Lawrence Binyon
In the night of death, Hope sees a star,
and listening love can hear the rustle of a wing.
--Robert Ingersoll
Remembrance is a golden chain
Death tries to break,
but all in vain.
To have, to love, and then to part
Is the greatest sorrow of one's heart.
The years may wipe out many things
But some they wipe out never.
Like memories of those happy times
When we were all together.
--Author unknown
Hope is the thing with feathers
That perches in the soul,
And sings the tune without the words,
and never stops at all.
--Emily Dickenson
Gone yet not forgotten,
Although we are apart,
Your spirit lives within me,
Forever in my heart.
--Unknown
Life is eternal;
And love is immortal;
And death is only a horizon;
And a horizon is nothing
Save the limit of our sight.
--Rossiter Worthington Raymond
While we are mourning the loss of our friend,
others are rejoicing to meet him behind the veil.
--John Taylor
She was no longer wrestling with the grief,
but could sit down with it as a lasting companion
and make it a sharer in her thoughts.
--George Eliot
Loveliest of lovely things are they
On earth, that soonest pass away.
The rose that lives its little hour
Is prized beyond the sculptured flower.
--William Cullen Beyant
A gift for such a little while,
Your loss just seems so wrong,
You should not have left before us,
It's with loved ones you belong.
--Unknown
Tenderly we treasure the past,
With memories that will always last.
--Unknown
More bereavement verses
Silent memories true and tender,
Just to show we still remember.
--Unknown
Greiving allows us to heal
to remember with love rather than pain.
It is a sorting process
One by one you let go
of the things that are gone
and you mourn for them.
One be one you take hold
of the things that have become a
part of who you are
and build again.
--Rachel Naomi Remen
The Lord watch between thee and me,
While we are absent one from the other.
--Unknown
Those we love remain with us
For love itself lives on,
And cherished memories never fade
Because a loved one's gone.

Those we love can never be
More than a thought apart,
For as long as there is memory,
They'll live on in the heart.
--Unknown
You still live on in the hearts and minds,
Of the loving family you left behind
--Unknown
Everything that has a beginning has an ending.
Make your peace with that and all will be well.
--Buddist Saying
You can shed tears that she is gone, or you can smile because she has lived.
--A Saying on Death
Wherever I go, whatever I do,
Memories keep me near to you.
--Unknown
Those we love don't go away,
They walk beside us every day,
Unseen, unheasd, but always near,
Still loved, still missed and always dear.
--Unknown
Though nothing can bring back the hour of splendour in the grass, Of glory in the flower, We will grieve not, Rather find strength in what remains behind.
-- William Wordsworth
Those we love we never lose,
For always they will be,
Loved, remembered, treasured,
Always in our memory.
--Unknown
As time unfolds another year,
Memories keep you ever near,
Silent thoughts of time together,
Hold memories that will last forever
--Unknown
Sweet little flower of heavenly birth,
She was too fair to bloom on earth.
--Unknown
I cannot halt the hand of time,
Or live again the past,
Within my heart are memories,
That will forever last
--Unknown
As time unfolds another year,
Memories keep you ever near,
Silent thoughts of time together,
Hold memories that will last forever.
--Unknown
Memories are like threads of gold,
They never tarnish or grow old.
--Unknown
Our thoughts are ever with you,
Though you have passed away;
And those who loved you dearly,
Are thinking of you today.
--Unknown
Just a thought of sweet remembrance,
Just a memory, sad and true;
Just the love and sweet devotion,
Of the one who thinks of you.
--Unknown
More bereavement verses

Sweet memories will linger forever,
Time cannot change them it's true,
Years that may come cannot sever,
Our loving remembrance of you.
--Unknown
I hope you have enjoyed these Bereavement Verses, let me know if you have one to share.

Back To Bereavement Poem

Go To The Homepage From Bereavement Verses