Poems Bereavement
Poems Bereavement carry a message of love, that death cannot diminish. Please find the care that the loving words convey.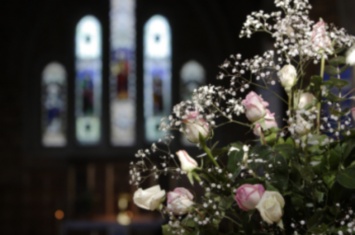 Flowers in front of a stained glass window
Four Candles For You
The first candle represents our grief.
The pain of losing you is intense.
It reminds us of the depth of our love for you.

This second candle represents our courage.
To confront our sorrow.
To comfort each other,
To change our lives.

The third candle we light in your memory.
For the times we laughed,
The times we cried,
The times we were angry with each other,
The silly things you did,
The caring and joy you gave us.

This fourh candle we light for our love.
We light this candle that your light will always shine.
With our family and friends.

We cherish the special place in our hearts
That will always be reserved for you.
We thank you for the gift
Your living brought to each of us.

We love you.
We remember you

Author Unknown
Beyond The Sunset

"Should you go first and I remain
to walk the road alone,
I'll live in memories garden dear,
with happy days we've known.

In spring I'll wait for roses red,
when faded, the lilacs blue.
In early fall when brown leaves fall,
I'll catch a glimpse of you.

Should you go first and I remain,
for battle to be fought.
Each thing you've touched along the way
will be a hallowed spot.

I'll hear your voice, I'll see your smile,
though blindly I may grope.
The memory of your helping hand
will buoy me with hope.

Should you go first and I remain,
one thing I'll have you do:
I want to know each step you take,
so I may take the same.
For someday down that lonely road
you'll hear me call your name."

Author Unknown
All Is Well
Death is nothing at all,
I have only slipped into the next room.
I am I and you are you
Whatever we were to each other,
That we are still.

Inspire
Memories grow deeper as the years travel on.
We long for a face and a voice that is sadly gone.
No words we speak could ever say, how much we miss you every day.
A loving nature, a smiling face, a special person, we can never replace.
Unknown

Call me by my old familiar name,
Speak to me in the easy way
Which you always used
Put no difference in your tone,
Wear no forced air of solemnity or sorrow
Laugh as we always laughed at the
Little jokes we enjoyed together.
Play, smile, think of me, pray for me.
Let my name be ever the household
world that it always was,
Let it be spoken without effect,
without the trace of shadow on it.

Life means all that it ever meant.
It is the same as it was,
There is unbroken continuiity.
Why should I be out of mind
because I am out of sight?

I am waiting for you,
for an interval,
somewhere very near,
Just around the corner
All is well.

Henry Scott Holland
Life Is But A Stopping Place
Life is but a stopping place,
A pause in what's to be,
A resting place along the road,
to sweet eternity.
We all have different journeys,
Different paths along the way,
We all were meant to learn some things,

Inspire
The day you left us my dear Friend
My heart just broke in two
The smallest part is still with me
The biggest part with you
Unknown
but never meant to stay...
Our destination is a place,
Far greater than we know.
For some the journey's quicker,
For some the journey's slow.
And when the journey finally ends,
We'll claim a great reward,
And find an everlasting peace,
Together with the lord.
Author unknown
What Is Dying?
I am standing on the sea shore...
When I Am Gone
When I am gone, release me - let me go,
I have so many things to see and do.

To My Dearest Family
Some things I'd like to say,
but first of all to let you know that I arrived okay.

Funeral Blues
Funeral Blues offers a different view on greiving.

I Measure Every Grief
I measure every grief I meet
With analytic eyes;

Return To Bereavement Poem

Go To he Homepage From Poems Bereavement