Inspirational Quotes and Sayings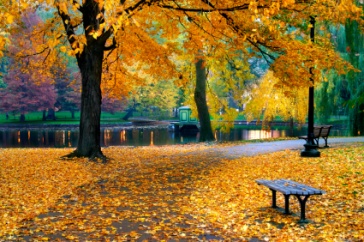 A park in Autumn with a bench
Inspirational Quotes and Sayings are timeless. They inspire us to look forward and to better understand who we are.
While quotes can be an entire thought expressed, sayings can be any bit of wisdom or truth.
Please enjoy these inspirational quotes and sayings:
I am convinced, both by faith and expierence, that to maintain one's self on this earth is not a hardship but a pastime, if we live simply and wisely. ...While I enjoy the friendship of the seasons, I trust that nothing can make life a burden to me.
--Thoreau
A symphony orchestra shows the culture of a community, not opera. The man who does not know Shakespeare is to be pitied: and the man who does not understand Beethoven and has not been under his spell has not half lived his life.
--Theodore Thomas
Behave toward every one as if receiving a great guest.
--Confucius
This learned I from a shadow of a tree, that to and fro did sway against a wall, our shadow selves, our infulence, may fall where we can never be.
--Unknown
Resolve to be thyself: and know, that he who finds himself, loses his misery.
--Arnold
The journey is the reward.
--Tao Saying

Do what thou lovest: paint or sing or carve. Do what thou lovest though the body starve! Who works for glory oft may miss the goal. Who for money merely starves the soul: work for the work's sake, then, and it may be, these other things'll be added unto thee.
--Unknown
Take life too seriously, and what is it worth? If the morning wake us to no new joys, if the evening bring us not the hope of new pleasures, is it worth while to dress and undress? Does the sun shine on me today that I may reflect on yesterday? That I may endeavor to foresee and to control what can neither be foreseen nor controlled- the destiny of tomorrow?
--Goethe
Perhaps they are not stars,
But rather openings in Heaven,
Where the love of our lost one's
Pours down through
and shines upon us
To let us know they are happy.
--Inspired by Eskimo Legend
How shall I be able to rule over others, that have not full power and command of myself?
--Rabelais
More inspirational quotes and sayings to enjoy

There is no such thing as a small country. The greatness of a people is no more affected by the number of its inhabitants than the greatness of an individual is measured by his height. Who-ever presents a great example is great.
--Hugo
Life is really simple, but men insist on making it complicatesd.
--Confucius
Truth is the beginning of every good thing, both in heaven and on earth: and he who would be blessed and happy should be from the first a partaker of the truth, that he may live a true man as long as possible, for then he can be trusted.
--Ruskin
There are three men who all ought to look upon with affection: be that with affection looks at the face of the earth, that is delighted wdith rational works of art, and that looks lovingly on little children.
--Unknown
What place is so rugged and so homely that there is no beauty, if you only have a feeling for beauty?
--Beecher
What the catepillar preceives is the end, to the butterfly is just the beginning.
--Buddhist Saying
The morning wind forever blows, the poem of creation is uninterrupted: but few are the ears that hear. Olympus is but the outside of the earth everywhere.
--Thoreau
Everything that has a beginning has an ending. Make your peace with that and all will be well.
--Buddist Saying
The only religion that will do anything toward enriching your life is the religion which inspires you to do something toward enriching the life of others.
--Unknown
Fear knocked at the door, Faith answered. No one was there.
--Old English Legend
Although thou art not able to see the mind of man as thou seest not God, yet, so thou recognizist God from his works, so thou must acknowledge the devine power of the mind from its powers of invention, and the desire it has for the beautiful.
--Cicero
Art comes to you proposing frankly to give nothing but the highest quality to your moments as they pass.
--Pater
There are three marks of a superior man; being virtuous, he is free from anxiety; being wise, he is free from perplexity; being brave, he is free from fear.
--Confucius
There is no beautifier of complexion, or form, or behavior, like the wish to scatter joy and not pain around us.
--Virgil
Every man has within himself a continent of undiscovered character. Happy is he who proves the Columbus of the soul.
--Goethe
To one in whom love dwells, all men are brothers.
--Buddhist Saying
The matter of simplicity, then, comes into literary style, into building, into dress, into life, individualizied always by one's personality. In each we aim at the expression of the best that is in us, not at imitation or ostentation.
--Charles Dudley Warner
While rivers run into the sea; while on the mountains shadows move over the slopes, while heaven feeds the stars, ever shall thy honour, thy name, and thy praises endure.
--Virgil
The greatest things in the world are pleasant thoughts: and the great art of life is to have as many of them as possible.
--Montaigne
Enthusiasm is the genius of sincerity, and truth accomplishes no victories without it.
--Bulwer-Lytton
We are here to help each other, to try to make each other happy.
--Saying of the Polar Eskimos

More inspirational quotes and sayings to follow

Inspirational Thoughts
I would like to share my inspirational thoughts with you.

Inspirational Thoughts 2
Read more inspired thoughts at inspirational thoughts 2.

Cowboy Wisdom
Cowboy Wisdom is for everyone.

Inspirational Quotes For Women By Men
Inspirational quotes about women, as said by men.

Inspirational Quotes For Women By Women
Inspirational words for women, as said by women.

Short Inspirational Quotes
Quotes that are inspirational and short, to carry with you throughout the day.

Inspirational Text Message
Here you will find inspirational messages to text with friends.
Go To The Homepage From Inspirational Quotes and Sayings
Thank You For Reading This Page On Inspirational Quotes And Sayings. I Hope To Add More Before Your Next Visit.