Celebration of Life Services
Memorial services are also known as celebration of life services, or just celebration services. The life of someone no longer with us is honored.
Typically, a memorial service is without the physical body being present. The service can take place at the time a funeral would have taken place. For the convenience of the people attending the service, who travel a great distance, the service can be at the discretion of family. It can be held many weeks or months later.
Celebration services are changing, to become more meaningful to family and friends, participating in the event. There is a trend for the service to be personal to the tastes and life of the one who died.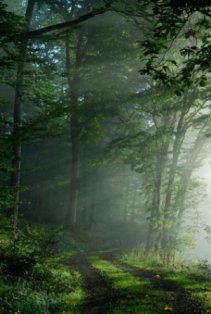 Path through trees
with sunlight
and lifting fog
Things To Consider For The Celebration of Life Services
Who To Invite
The service can be small and intimate with only the immediate family present. My mother's service included my siblings, a grandchild and a few close friends.
A larger service would include friends, persons from the business community and extended family.
Where To Hold The Service
At one time, churches were the most common place to have a memorial service. Now a service can be held at a funeral home, a personal home, an outdoor garden, or a rented hall.
For my mother's internment, in a different city, we had quite a large gathering. Relatives who could not make it to the memorial service in winter weather, came to honor her at this time. This service took place many months later.
I was comfortable that only the immediate family were present for the first service.
Whom You Would Like
To Lead The Service
An ordained minister does not have to lead celebration services.
The spiritual advisor or clergy to the deceased, or family member of the deceased may officiate instead.
A good idea is to have someone lead who is comfortable in that position, if not a clergy member.
Speakers
Two or three speakers, who have prepared a five to eight minute speech, are a good number to have. They can be spaced throughout the service, or speak one after the other. At some celebration of life services, there is a time for persons participating to stand up and say a few words.
At our family memorial service, my sister offered to read a prayer. It was a prayer that our mother taught us as children. She handed copies of this prayer to my brothers and sister, in case we forgot it. Then we all read it aloud. It was a very touching moment.
Time Limit For The Service
An hour, a bit more or less, is an appropriate length of time for a service to take place. There will be more informal visiting and fellowship after the service has ended.
The right length of time will be when everyone has honored the one who has passed, in their own way.
Music - What Kind And When
At this time, there is greater access to prerecorded music than ever before. Music or songs can be selected for just the right feel of the service.
A soloist, may preform with or without musical accompaniment. The soloist may sing in the middle of the service with music played at the beginning and end of service.
Music can be used throughout the service as a thoughtful pause. After speakers have spoken, a moment may be needed for the guests to reflect on their own thoughts.
Music that the celebrated person treasured, may also be played.
I have been to many celebration of life services, one where the nieces sang a song that was a tribute to their uncle. He loved music and had writen a song or two in his time. This was very moving to many of the guests.
What Types Of Remembrance
Things To Display
Photos, picture albums and picture boards are visual tributes to someone you love and are appropriate for a celebration of life service.
They can be displayed on a main table upon entering the celebration. Or smaller tables can be set up to hold the varies momentos. Each table where people will be sitting, can hold photos or cherished objects.
Refreshments After The Service
Depending upon where the service is held, would determine in part the types of refreshments to offer.
A hall could provide a catered meal to a large gathering. The meal usually takes place following a short interval after the service. The time allows everyone to arrive at the hall without rushing.
Many churches have groups that provide food and a dining area after the service. Some charge a nominal fee while others accept a donation. A few churches offer the facilities for free if you provide the food and clean up after.
At times, home cooked meals are preferred. Relatives and friends usually contribute their favorite dishes or desserts. These meals can take place at a home or a hall can be rented depending on how many people will be attending.
A large meal may not be what you need. If you prefer, a simple offering of coffee, punch and cookies after the service allows the participants to have fellowship with each other.
After my mother's memorial service, we went to a local restaurant my mother loved. Friends and family were invited. We shared stories and connected with each other over the meal. This was a special time for me, as some of my siblings live in distant parts of the country.
Guest Book
A guest book to sign, for all attending the celebration service is something the family can look back on and feel comforted with.
On occasion, depending where the service is held, a guest book may be provided. More often, you will have to provide your own.
The idea of family and friends coming together to honor a loved one and provide a form or closure is important. To look back on all the love the names represent, can be very uplifting.
Memorial
At this time you may be considering a Celebration of Life Memorial. There are many ways to keep one's memory alive.
A beautiful memorial tree is there to honor for many lifetimes.
There are many creative stepping stones with or without inscriptions, that offer quiet reflection along a path.
Garden Stones are another type of memorial, when space is limited.
And do not forget a Memorial Bench. It will provide a resting place where thoughts of loved ones can prevail
The celebration of life service brings people together, to honor a loved one, to share stories, and provide comfort to those attending.
The people share a common goal; to gather as a loving group and to support each other in their loss.
Hope you have found "Celebration of Life Services" useful.


Return to Celebration Of Life

Go To The Homepage From Celebration of Life Services