I Measure Every Grief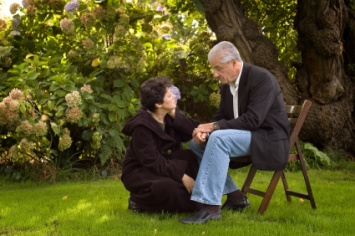 Poems For
Bereavement
Emily Dickinson

I measure every grief I meet,
With analytic eyes;
I wonder if it weighs like mine,
Or has an easier size.

I wonder if they bore it long,
Or did it just begin?
I could not tell the date of mine,
It feels so old a pain.

I wonder if it hurts to live,
And if they have to try,
And whether, could they choose between,
They would not rather die.

I wonder if when years have piled–
Some thousands–on the cause
Of early hurt, if such a lapse
Could give them any pause;

Or would they go on aching still
Through centuries above,
Enlightened to a larger pain
By contrast with the love.

The grieved are many, I am told;
The reason deeper lies,–
Death is but one and comes but once
And only nails the eyes.

There's grief of want, and grief of cold,–
A sort they call 'despair,'
There's banishment from native eyes,
In sight of native air.

And though I may not guess the kind
Correctly yet to me
A piercing comfort it affords
In passing Calvary,

To note the fashions of the cross
Of those that stand alone
Still fascinated to presume
That some are like my own.

Emily Dickinson
Return To Poems For Bereavement

Go To The Homepage From I Measure Every Grief
Poetry that offers comfort and expression.

Bereavement Verses
It is better for a bereavement verse to be uplifting and inspirational, to bring the reader to a higher place than where they were.
Grief Quotes

There is a sacredness in tears. They are not the mark of weakness, but of power. They speak more eloquently than ten thousand tongues. They are the messengers of overwhelming grief, of deep contrition, and of unspeakable love.
Washington Irving

The friend who can be silent with us in a moment of despair or confusion, who can stay with us in an hour of grief and bereavement, who can tolerate not knowing... not healing, not curing... that is a friend who cares.
Henri Nouwen

No one ever told me that grief felt so like fear.
C S Lewis

I believe that imagination is stronger than knowledge. That myth is more potent than history. That dreams are more powerful than facts. That hope always triumphs over experience. That laughter is the only cure for grief. And I believe that love is stronger than death.
Robert Fulghum