Memorial Benches
Memorial benches are a tribute that serves as a quiet spot for reflection. The bench invites one to rest and be still for a moment or for an afternoon.
Benches can be made of wood, stone or metal…even recycled plastic. Whatever is pleasing to your eyes and budget can be found in a garden center, specialty store or online.
You can go as fancy or as fundamental as you wish when it comes to supplying a bench. Take into account what you like as well as what your loved one would be most comfortable with.
If you are handy, you can make your own. If not, you can purchase one already made or have one prepared and assembled to your specifications for you.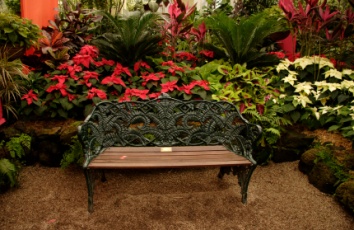 Memorial bench in a flower garden
Bench Inscriptions
Some benches come with an inscription, while others can be ordered with a personal message. There are benches that have cutout designs; others that have decorative inlays. Some have a graceful curve in the seating area.
Here is a sampling of bench inscriptions;
*Jesus took children up into His arms and blessed them.
Mark 10.v.16
*At evening time it shall be light.
Zech.14 v.7
*He shall gather the lambs with His arms and carry them in His Bosom.
Isiah 40 v.11
*In heavenly love abiding, gone but not forgotten.
*We thank God for every remembrance of you.
*Those we love don't go away,
They walk beside us every day,
Unseen, unheard, but always near,
Still loved, still missed and very dear.

*Always in our thoughts,
Forever in our hearts.

*As you were you will always be,
Treasured forever in our memory.

*A little lamb too sweet and pure,
Upon the earth to roam,
An angel came so silently,
And took our dear child home.

Bench Design
Some small benches do not have backs, while other larger ones can have a back and side-tables, or be customized to wrap around a tree. Benches come in a variety of sizes, designs and colors. There are choices for every budget and every location.
For instance, the uncle of a friend of mine passed into his next phase on the journey of life while sitting on shore with a fishing pole in his hand. A rustic, hand-hewn seat in that exact spot marks the peace and beauty he experienced while fishing, as well as the joy he found in his favorite past-time.
Don't Have Space For A Memorial Bench?
Not everyone has a suitable area or space for a memorial bench where they live. Apartment terraces may not be large enough for the type of bench you would like.
Perhaps you could bring the bench indoors. A hallway or entrance area could accomadate an indoor bench.
Many churches and chapels have memorial gardens. Depending on the garden, there are walking paths and resting areas that could hold a bench. A dedicated bench, in a place you visit often, could serve as a loving tribute.
Back to Celebration of Life Memorial

Go To The Homepage From Memorial Benches