Bereavement Prayer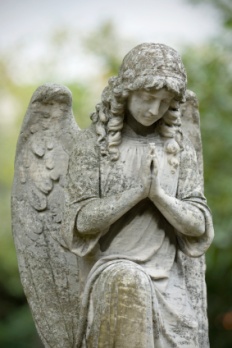 Angel of stone praying
Bereavement prayer allows us a quiet comfort, at an uncertain time. Prayer speaks for us, from a place deep inside, when our own words fail. We become part of a higher calling, and connect with something greater than even we can understand.
Some poems are beautiful enough to be used as bereavement prayers, and some prayers are very poetic.
These prayers can be used in speeches and tributes. They can also be used at funerals, church services and gatherings to honor a loved one.
All prayers do not have to be pre-written by someone else. Any individual can write their own prayer, to be used privately, or shared with others.
~~~~~~~~~~~~~~~~~~~
Certain thoughts are prayers. There are moments when, whatever be the attitude of the body, the soul is on its knees.
--Victor Hugo
~~~~~~~~~~~~~~~~~~~
Please find comfort in these bereavement prayers;
Lord, support us all the day long of this troublous life, until the shadows lengthen and the evening comes and the busy world is hushed and the fever of life is over and our work is done. Then, of Thy great mercy grant us a safe lodging, and holy rest, and peace at the last.

---------------------------------
Sunset and evening star,
And one clear call for me!
And may there be no moaning of the bar,
When I put out to sea,

But such a tide as moving seems asleep,
Too full for sound and foam,
When that which drew from out the boundless deep
Turns again home.

Twilight and evening bell,
And after that the dark!
And may there be no sadness or farewell,
When I embark;

For tho' from out our bourne of Time and Place
The flood may bear me far,
I hope to see my Pilot face to face
When I have crost the bar.

Alfred Lord Tennyson
---------------------------------
Almighty God, we rejoice to know
that your reign extends far beyond the limits of this life.
In the mystery of what lies beyond our sight
we pray that your love may complete its work
in those whose days on earth are done;
and grant that we who serve you now in this world
may at last share with them
the glories of your heavenly kingdom;
through the love of Jesus Christ, our Lord.
Amen

---------------------------------
We give them back to you, dear Lord, who gave them to us.
Yet as you do not lose them in giving, so we have not lost them
by their return.
Not as the world gives do you give, O Lover of souls. What you
gave you do not take away; for what is ours is ours always,
if we are yours. And life is eternal, and love is immortal,
and death is only an horizon,
and an horizon is nothing save the limit of our sight.
Lift us, strong Son of God, that we may see farther.
Cleanse our eyes that we may see more clearly.
Draw us closer to yourself that we may know ourselves nearer to them.
And while you are preparing a place for us,
prepare us for that happy place,
that where they are and you are, we too may be;
through Jesus Christ, our Lord.
Amen

---------------------------------
Dearest Jesus, who wept at the death of your friend
and taught that they who mourn shall be comforted,
grant us the comfort of your presence in our loss.
Send Your Holy Spirit to direct us
lest we make hasty or foolish decisions.
Send Your Spirit to give us courage
lest through fear we recoil from living.
Send Your Spirit to bring us your peace
lest bitterness, false guilt, or regret take root in our hearts.

The Lord has given.
The Lord has taken away.
Blessed be the name of the Lord.
Amen

---------------------------------
Bring us, O Lord God, at our last awakening into the house and gate of heaven, to enter into that gate and dwell in that house, where there shall be no darkness nor dazzling, but one equal light; no noise nor silence, but one equal music; no fears nor hopes, but one equal possession; no ends nor beginnings, but one equal eternity; in the habitations of thy glory and dominion, world without end.
Amen.

John Donne
--------------------------------------------


More Bereavement Prayers follow:

A Prayer
A prayer to offer quiet comfort.

The 23rd Psalm
The 23rd Psalm is often used as a prayer.


Return To Celebration of Life

Go To The Homepage From Bereavement Prayer